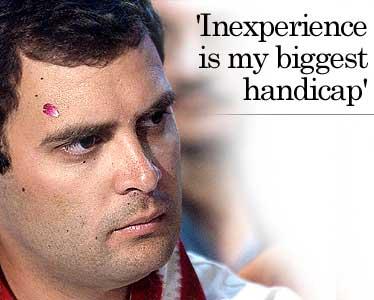 The former British Prime Minister, Tony Blair has described Rahul Gandhi as the most talented politician. He is right as Rahul during his short tenure as the Congress general secretary and member of Lok Sabha has proved himself as the most talented leader that represents the new breed of politicians who want to make
India
a Leader in the world.
He has emerged as a Reformist in Indian Politics, particularly the Congress and has gone to the extent of suggesting injecting young blood in the party and the government and even recommending his mother to "take rest" (retire ).
Rahul wants to learn about
India
and its people. He mingled with the tribals in Orissa ignoring security restrictions and later declared security cover can not prevent him from meeting the people. "It is for me to decide where to go and whom to meet, not the SPG".
While on his 'Discover
India
' tour , Rahul Gandhi announced that it was time that The Congress as a political party starts enforcing democracy in its own organization. Rahul denounced the High Command culture too.
He got a responsive Media appreciating his words of wisdom and political analysts called this an exercise which has been long due in the party. Some termed it as a statement that showed the level of political maturity he has attained and for some it was just a political statement; nothing less, nothing more.
Rahul visited the Bundelkhand region to meet the families of the farmers who committed suicide and Vidarbha to sympathies with the farmers' families,toured drought-hit Kalahandi (a favorite spot of his grand mother,Ms Indira Gandhi and father,Rajiv Gandhi too) in Orissa and went to console the Dalit families whose relatives were killed in Aminanbad (Etawah district of Uttar Pradesh).His intervention in the Sarabjit Singh case yielded result and Singh's execution was extended by General Musharraf for a month. Rahul like his father means Business.
The Gandhi scion has always been seen as someone who was born with the silver spoon ion his mouth. It was known that sooner rather than later he would be following in the footsteps of his family members who have graced the
India
political system since time innumerable.
Most of the observations that have been offered to the readers have a connotation that suggest since he is 'Gandhi' hence everything will come easily to him. This observation grew stronger with time as he went on to become an MP, a party general Secretary and now he heads both the youth political entity that represents the congress party the NSUI and the Youth Congress.
Though not many have looked into the other side of the implications of being born with the proverbial silver spoon that has always been associated with Mr. Gandhi. Since he is a Gandhi he is expected to win every elections seat that he campaigns for.
Gujarat
and Uttar Pradesh were seen as a wind that separated the wheat from the chaff. Political observers were already out with a verdict that since he was campaigning is Uttar Pradesh, Congress tally will improve. Then in
Gujarat
pundits went on to say that it was a battle that will decide the weight Rahul Gandhi has. It's true that people turned out in large numbers to hear and see him but equally real is the fact that these mass congregations did not turn into votes. Critics are already out in the open saying that Rahul Gandhi has the charisma to attract people but not votes.
To be frank these and many similar observations were not mouthed by Rahul Gandhi himself but by the media and the political observers. It would be injustice to expect someone to pull congress out of a debacle that has inhabited it for years in states like UP and
Gujarat
just because he is the child of Rajiv Gandhi.
The baying of blood that has been associated with Rahul Gandhi has always been on the lines of the fact that he is a Gandhi. His Political acumen has not been tasted or seen yet. Still he has been termed as someone who owes his political ambitions to his family rather than his understanding of Indian political structure. His biggest handicap in his own words is his inexperience.
He knows that if Congress has to perform well in the long run the NSUI and Youth Congress will have to be nurtured with care and attention. His take on a democratic setup in the party should be commended. In his AICC meeting speech Rahul Gandhi called for organizational setup of NSUI and Youth Congress in such a manner in which meritocracy and accountability will prevail.
In his budget speech Rahul Gandhi called for linking implementation of governments programs to objectives spelled out under RTI. Similarly he called for more encouragement and strengthening of Panchayati Raj Institutions which according to him are empowering the poor rural to be a part of the democratic structure. Similarly no can deny the success of NREGA which is his pet project, more-so considering the fact that although NREGA is the brainchild of the UPA government but it depends on state governments for its implementation.
Neither Rahul Gandhi nor Congress can refute the fact that right now it is a party of kith and kin. Madhya Pradesh has the father son duo of Arjun singh- Rahul Singh. Then there is Kamal Nath who recently launched his son Nakul. JyotirAditya Scindia had Madhav Rao Scinda to give political lessons. Rajasthan has Sachin Pilot, son of Rajesh Pilot. Recently Subhash Yadav, the former PCC chief of Madhya Pradesh managed to secure an assembly ticket for his son Arjun. Then we have Amitesh shukla son of SC Shukla. The list is long and the names are many.
Conversely no one can refuse the fact that if Sachin pilot and JyotirAditya Scindia didn't had their family name still they would have earned the same respect that they command now because they have time and again proved they have the understanding that is required to be politically successful. Their parliamentary voters are happy with them for the work they have done in their constituency.
When Rajiv Gandhi came into power in 1984 he candidly expressed his dis-satisfaction with the internal structure and working of the Congress party. Rajiv rose not because he had any achievements that he could boast of at that time but it was her mother's assassination that catapulted a reluctant youth to a reluctant leader of
India
's largest political party. At that time Congress was known for having more than a fair number of power brokers. According to him this was one of the three problems that plagued Congress the other two being lack of Organizational elections and intra party discipline.
In the 1984 general elections one third of the sitting MPs were denied tickets. Most of them were known to be corrupt and unscrupulous. Younger people and college goers were encouraged to become a part of Sewa dal and the state level functionaries including Chief Ministers were dissuaded from flying to
Delhi
to pay their monthly respect which was a norm in the times of India Gandhi.
History will tell that after pursuing these new policy for a couple of years , Rajiv Gandhi had to abandon them as they were not quite appreciated by the senior strung leaders and that was evident in the way he lost a number of assembly elections. If these valuable policies were religiously followed for a longer period then they would have benefited the party in the long run but unfortunately were aborted for political considerations.
Now Rahul Gandhi is on the same path of reforming the Congress party. He has history to guide him through but then he also has the seniors who like in the past will also try to make his path easier the way they made his father's journey enjoyable. His Father didn't succeed and only time will tell whether Rahul Gandhi, the scion of the Gandhi family will emerge triumph or not.
Ends
http://desicritics.org/2008/03/22/024010.php