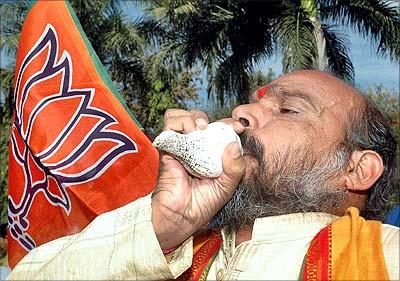 Madhya Pradesh which sends 29 MPs to the parliament and is traditionally known for its bipolar politics is experiencing a changed sceanrio as lesser parties like Bahujan Samaj Party (BSP) and Samajwadi Party (SP) have started making their presence felt in the central state.
In the previous 2004 general election, the BJP riding on a popular wave and a strong anti-Congress feeling won 25 of Madhya Pradesh's 29 seats with the rest going to Congress. Prominent winners of Congress included Kamalnath and JyotirAditya Scindia.
This time too, experts feel that BJP will romp home quite comfortably. This so called positive feeling for BJP is not being attributed to any national issues like internal security or job opportunities but local issues on which BJP is on a strong platform.
The state government under Shivraj Singh Chauhan has grown stronger with each passing day. His simple yet effective way of governing and his emphasis on development has made sure that the BJP cadre has enough related ammunitions to deal with any congress tirade.
The different state of affairs which the state saw under Digvijay Singh and the scenario under the present CM is quite stark.
In the previous general election the state was virtually nil when it came to good roads and regular electricity supply. But that has changed. Similarly the CM who himself comes from a rural background has made amply sure that the rural segment is not ignored due to which the state has witnessed an all-round development.
The party faced many a discontent during the previous assembly election but most of them were settled amicably as every party leader knows that in the present time BJP is going through a golden period in the state and it would be suicidal to go against the party wish, especially against the CM.
The BJP is functioning so well in the state that former Union minister Sushma Swaraj - the BJP's Election in charge for Madhya Pradesh, Chhattisgarh and Jharkhand - is in the fray from this Vidisha constituency. Call it the real 'feel good' factor.
Out of the 29 seats there are more than at least half a dozen seat where the contested is expected to be one sided. Most of them in favor of BJP. Congress though can safely bet their money only on Kamalnath and Scindia.
The only million dollar question that one can speculate on is whether the BJP will be bale to improve on its previous tally of 25 seats or not. Politically it is very difficult, maybe next to impossible. In the previous election the mass came out to vote for two reasons; First to remove Congress and secondly to install BJP.
This time the first factor is irrelevant.
Secondly the region that is attached to UP is an area where SP and BSP do exercise some influence. Now it remains to be seen how much of that influence will be transformed into votes.
The lesser parties may not appear as a very big issue , but still they have kept both BJP and Congress busy.