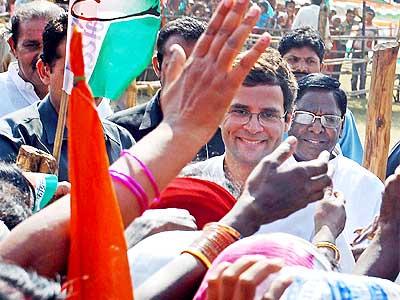 Until now the Congress party in Bihar had failed to make any 'visible' impact on the streets of Bihar. As you roamed the city you will find smiling, bearded, tired, jovial, all kinds of faces of different leaders of all parties except Congress.

But now that has changed as Rahul Gandhi has finally found a place in the political space of Patna. Hoardings depicting him as the future leader of the country have come up at various points in the city.

Though Rahul Gandhi has still not taken up any 'Bihar specific' discovery of India tour yet his 'supposed' charismatic affect is being used by the party organization to motivate the party cadre and to galvanize supporters.

I find it very strange that India's biggest political party, Congress, has a very negligible stake, share and presence in a politically active state like Bihar, which historically has been the birth place and play ground of national leaders. I can assure you that this is one place were politics comes before cricket.

Knock on the doors of any house and you are sure to find a political connection that goes either directly to the CM house or in most cases to the political corridors of Delhi. Poke anyone, be it a retired professor, a bank employee, an executive engineer or a street fruit vendor, and they will come out with political stories and development that are hard to imagine. Maybe once can doubt their truthfulness, but then they will say "it may be false now but who knows by the time you finish your dinner it will turn true". Agreed.

A Delhi based Congress party functionary who was recently in Patna said that the 'AC culture' has made the senior leaders of Patna sensitive to sun and insensitive to political requirements. Now they find it hard to come out on street, stage protest, voice demands of the mass which ultimately has led to the downfall of the party presence in the eastern state.

Political vultures have not failed to take notice of this poor state of Congress in the state. Till recently leaders from other regional parties like RJD and LJP decided on which seat should be Congress granted concession so that its nominee may contest.

Also, the Congress been not able to find any local leader who can act as the face of the party. Every state has a leader who represents the party in his region. In Madhya Pradesh there are Digvijay singh, Kamal Nath, in Delhi it is Sheila Dixit, in Chhattisgarh it is Ajit Jogi and so on. Most of them were popular even before they became CM or MPs. But unfortunately the party has no such luxury in Bihar.

Party old timers understandably find this painful and blame the national leaders who in order to run their horses in Delhi mortgaged the party interest in the state. This demotivated the party workers, forcing them to switch loyalties. As a result Bihar Congress has been reduced to a political widow.

Some months back when the MNS goons were beating Bihari and UP migrant workers and making news all over the Country none of the Congress leaders including Rahul Gandhi thought it was required to come out and say some words denouncing the act. I have never been able to comprehend the reason behind this insensitivity.

So much for a comprehensive Indian political dream.

The party cannot sink further anymore in Bihar. With nothing to lose but everything to gain, state leaders should begin its revival through small slow steps. First sit, then stand and then fight.

What the Congress needs in Bihar is to focus on long term gains, ignoring the short term losses. Giving itself 5 years and in the meantime strengthening the party cadre and increasing its reach among the mass and will turn true the seemingly impossible possibility of forming the government by its own.

Rahul Gandhi may be short of time but as he embarks on mission to make Congress a pan India party he should not forget that Bihar too figures on his political map.